Have you purchased WordPress hosting and are now making your site? While editing the theme you need to add navigation menu for your wordpress site, but how to add a menu in WordPress?
This is what we shall be covering in today's lesson. So let's start.
Examples of a menu in WordPress
If you do not know what a navigation menu is, then refer to the image below –
The above image shows the navigation menu at our site – Xplorers of Fun. These types of links present at the top of your site which help a user in navigation are called navigation links and the collection of these links is called a 'navigation menu'. These navigation menus are very important as they make a site more structural. You must add links of the most important pages of your site in the navigation menu.
The location of your menu shall depend on your theme, although most themes allow different positions for navigation menus. Like the theme which we use at Xplorers of Fun gives us options to add a menu in the top, in the footer and many more places. Now let us dive into the practical and start making a menu in our WordPress site!
Creating a menu in WordPress
To create a menu, head over to Appearance>>Menus. Alternatively you can go to the menu settings by the front panel on your WordPress dashboard.
First things first, name your WordPress menu. You can name it anything according to your choice. Then click on create menu.
Next choose the pages to add to the menu. You can also add posts, categories and custom links too. After selecting the pages, click on add to menu.
Now we will have to configure some settings.
Check the 'automatically add new top level pages to this menu', if you want that any new page you create gets automatically added to your menu. In the last three options, select if you want this menu of yours to be the primary header menu or footer menu or a secondary menu. This depends upon what you need to do with your menu.
How to make a drop-down menu in WordPress
Now that you have learnt creating a menu its time to get a bit advanced. You must have noticed on our site that we have a drop-down menu under the Blog page. If you haven't then see now –
These kind of menus in which one menu is under another menu is called a drop-down menu. You must use drop down menus with mostly categories of your Blog. This helps users to navigate to a certain category of your blog. Well, adding menus in WordPress isn't tough. In fact it is very easy!
Let's start now. To create a dropdown menu, drag the page or post you want to appear under the parent page. For eg –
To create a sub-menu, drag the page you want under the parent page and move it a bit to the right and this shall become a sub item. You can further create sub menus. As I told you before, you can use this to add your Blog categories just like we do at Xplorers of Fun.
Deleting an item or menu
If you created a menu in your wordpress site by mistake, then you might want to delete it. This too like other things is very easy.
To do this, Click on the delete menu link under the menu.
Just like in the above picture, there is a red coloured – 'Delete Menu' Link. Click it, accept a prompt and your menu will get deleted.
If you are looking to delete only one item in your menu, then do it in the following way-
Click on the item and click on the 'remove' link.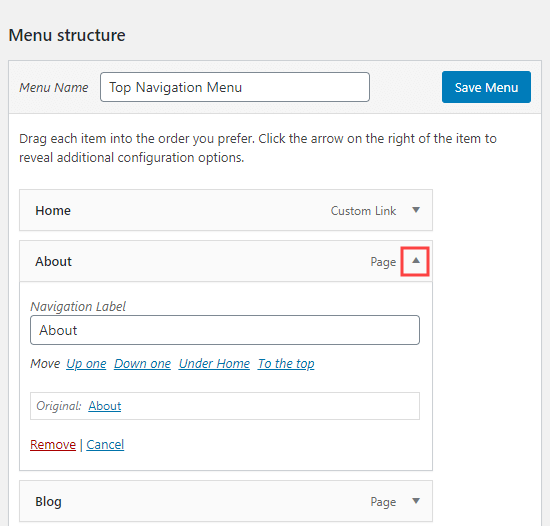 And with this step, your particular item has been deleted.
Conclusion
Well, so in today's lesson we have learnt how to create menus, creating sub menus, adding categories, configuring the settings and then deleting them in an emergency. All this was very easy and even a complete newbie can do it to. I hope you liked the article and comment below and tel how many of you have sites on WordPress and which theme you are using!! Thank for reading.